R E A L I T I E S
Tuesday, 26. April 2022 at 20:00 hrs
Akademie der Bildenden Künste Wien
Post-Conceptual Art Practices Studio
Atelierhaus, Lehargasse 8, 1060 Wien, 10G Atelier Süd (M1)

R E A L I T I E S is a performance piece, exploring the personal side of artists relation to her country of origin Bosnia and Herzegovina and its post-war identity which is rooted in her experience of child refugee and the impact it had on her life. Through the work with traditional music and singing of BiH Sevdalinka songs, she searches for answers related to the feelings of shame, exclusion and displacement. She sheds a harsh critique on the political decisions made thirty years ago which resulted in a war and its consequences, affecting an entire generation of children who today are searching for their lost identity. Text by Sasha Elle

26. – 27. April 2022
KONFERENCIJA
Konferenz über die Kunst und Kultur
von den Ex-YU Künstler*innen, Kurator*innen
und Kultur Arbeiter*innen in Österreich
More Info on full program:
https://www.mustra.art/works/curatorial/konferenz-uber-die-kunst-und-kultur/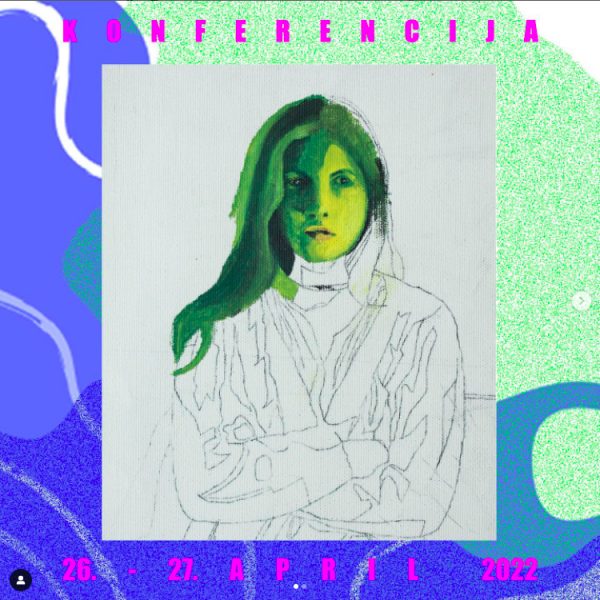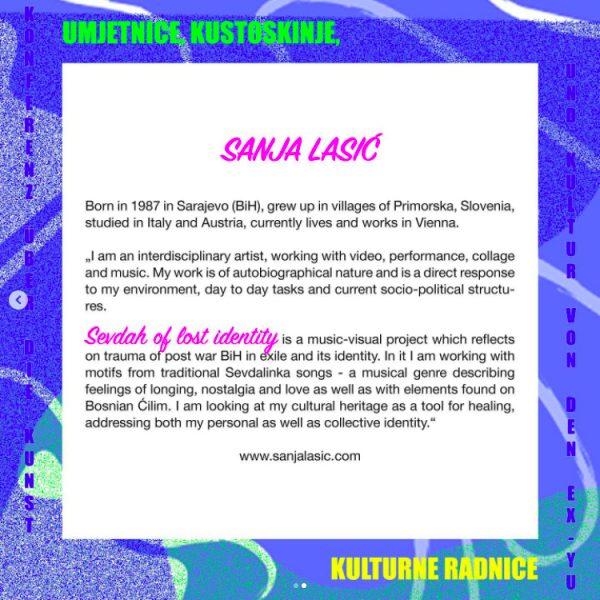 – – – – – – – – – – – – – – – – – – – – – – – –

Saturday, 9. April 2022
10:00 – 16:00 hrs
Muzej novejse zgodovine Slovenije, Cekinov Grad, Ljubljana
https://www.muzej-nz.si/si/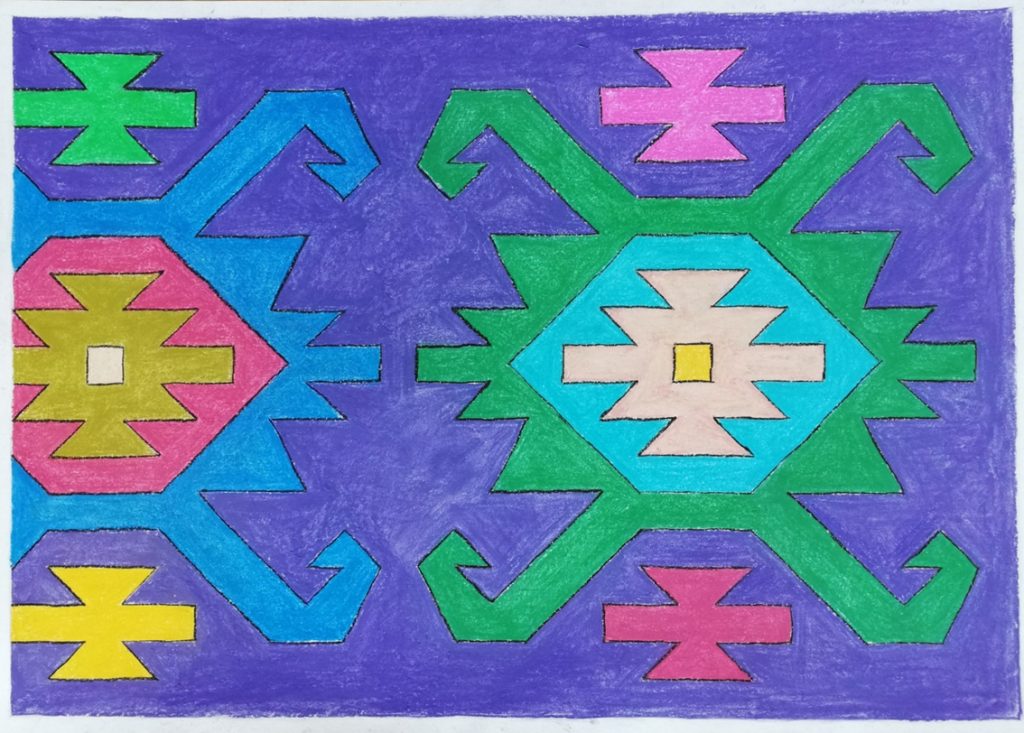 SEVDAH OF LOST IDENTITY: Free, one-day workshop on drawing and research of traditional elements with artist Sanja Lasić
Each pattern woven into traditional rugs has its own meaning. Every song and artistic creation has its own motif. Just as every man or woman has his/her own identity. The Sevdah of Lost Identity Workshop will connect these elements and help find roots through artistic expression. The workshop will take place as part of the exhibition Up YU Go!: Stories About Identity on the Line.
In the workshop, we will first take a look at traditional elements found in folk art from the republics of the former Yugoslavia. We will focus on carpets and fabrics, which have often served as home decoration. After the analysis, the artist will present the use of different drawing methods. We will focus on mapping motifs and trying to find a new meaning for them through modern reinterpretation. The aim of the workshop is to present one of the ways to use artistic expression as a tool for healing the broken, forgotten or simply existing trauma of identity and the connection between the history, tradition and politics of modern times.
Sevdah of Lost Identity is a several years research and multidisciplinary project of an artist born in 1987 in Sarajevo, who grew up in Slovenia. The project is a musical and visual exploration of the elements found in traditional music, more precisely in the song Sevdalinka and on the traditional carpet ćilim, which are part of the artistic culture of Bosnia and Herzegovina. The artist, who experienced the consequences of intergenerational persecutions and settlements between BiH and Slovenia, seeks to understand the connection between personal and collective history related to the former Yugoslavia, the war in Bosnia in the 1990s and its post-war identity. In addition, she deepens and explores feelings of trauma related to topics of otherness and assimilation processes through personal history and the roots of her ancestors.
Registration: The number of participants is limited, so to secure a place, please register no later than Thursday, April 7, 2022 at urska.purg@muzej-nz.si.
No prior drawing knowledge is required. The workshop is intended for the adults who are interested in drawing as a way of healing the trauma of identity and expression through art.
– – – – – – – – – – – – – – – – – – – – – – – –
Monday, October 18, 2021 // 19:00 hrs
Le Studio – Film und Bühne c/o Studio Moliere
Liechtensteinstrasse 37, 1090 Wien
https://lestudio.at/

Tickets:
Free entry with free donation (min 9 euro)
2,5G (pcr – genesen – geimpft)

Raw Matters Evening (http://rawmatters.at/)
with performances from:
Sanja Lasic, Stina Fors, Jeanne Lakits, Daniela Hanelová, Flora Boros & Adela Maharani


With Sevdah of lost Identity Sanja Lasic searches for ways to heal her experience of forced displacement and otherness through a modern interpretation of Sevdalinka song from Bosnia and Herzegovina.
26 march 2021
HUMANS – VideoRitratti della società contemporanea
Talking about my work 200 Fights within a new curatorial project by Giovanni Viceconte for Arttribune magazine. Read here.